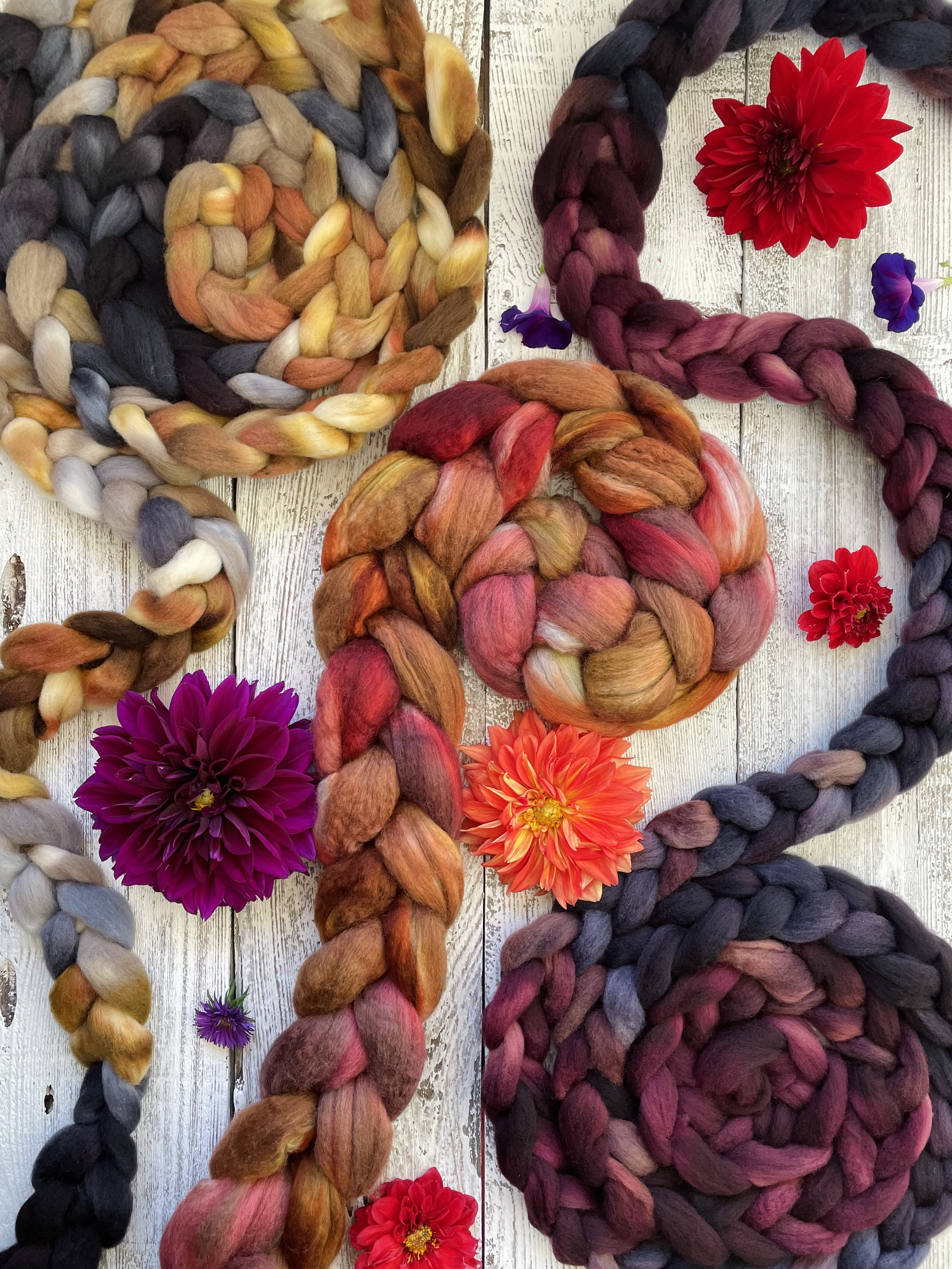 Spindelicious Yarn and Wool works uses fibers that have been sourced from farms that are cruelty and muesling free. When possible I source from American, and/or local fiber farms when possible.
Here is a rotating list of spinning fibers I stock in my colorways for your spinning pleasure. I'm always looking to add more fun and delicious fibers:
•LIMITED EDITION #spindeliciousbucketlist fiber: Sometimes I feature a limited edition heritage breed, rare, or not widely utilized fiber for your spinning pleasure! This idea started because of a conversation I had with a fellow fiber artist on Instagram chatting about all the fibers we would love to spin in our lifetime. There's over 1,000 breeds of sheep out there (not to mention goats, etc!) so I thought, how fun would it be to start spinning through my bucket list! Check out the hashtag on Instagram to see current or past months offerings.

•THE BIG COZY: 100% USA Targhee. The Targhee breed was developed in Idaho in the 1920's with the hopes of breeding the "ideal sheep," a hardy sheep that could withstand harsh winters yet with the most desirable wool qualities possible. The foundation stock is Rambouillet, Corriedale, and Lincoln. Over time the sheep were bred back with Rambouillet rams creating a sheep that produces wool with amazing softness, spring, strength and loft. This fiber creates one big, squishy, cozy yarn.
BIG COZY SOCK: 80% USA Targhee, 10% Bamboo, 10% Tussah Silk. You know I'm a fan of the big, bouncy, coziness of Targhee Wool. I couldn't resist stocking this sock blend. With a bit of bamboo and silk, it creates a strong, durable, comfy blend of fibers for socks (and really, any garment). The silky bits takes the color in vibrant hues of shiny color, against the more matte texture of Targhee. The bamboo, being a vegetable fiber, resists dye and creates shiny lighter tones. A beautiful blend. Make yourself some big cozy socks!

•9 MILE CORMO FROM MOUNTAIN MEADOW WOOL-100% USA Cormo from 9 Mile Ranch in Wyoming. I am thrilled to be able to offer this delicious, ethically/sustainably sourced Cormo from one of my favorite mills. This fiber is buttery, fluffy, and comes in loooong braids. Look up Mountain Meadows online and read about this cool mill working to sustain the Midwest ranchers.
•SPINDELICIOUS CLASSIC-100% Corriedale: A classic handspinners wool! Corriedale is a lovely, go-to medium-fine wool that is a cross of Lincoln and Merino breeds, which means a longer staple length, and (attention new handspinners!) is a breeze to spin. It has a great crimp and loft and elasticity to the finished yarn, so spun it a bit finer than you normally would to allow for some bloom and poof. Next to BFL it's my favorite fiber to learn to spin on, it's an all-purpose wool and it can be used for all the typical wooly wearing garments: mittens, scarves, sweaters.
•THE SUPER-100% Superwash Merino. The super is a big fluffy braid of SW Merino wool. Superwash wool has been chemically treated to remove the scales on the individual strands of wool. Because of this it tends to be slippery, drafts very easily, and dyes up super bright.
•SPIN-SKINNY-USA 100% USA Superwash Merino pencil roving. Super soft, loooong braids that are a little wider than finger width and easy to spin. Superwash dyes up super vibrant because superwash wool has been treated to remove the scales on the wool creating a more porous fiber that resists felting. Grown in the USA.
•MY BFF BLF-100% BFL (Blue Faced Leicester): My favorite. Lustrous shine, and silky with a long staple length and bounce. Delightful to spin.
•SPINDELICIOUS LUX-80% Polwarth, 20% Mulberry Silk: A lux fiber that is so worth the splurge! Cloud-like. Mulberry Silk is the finest silk available. This blend is so silky soft with incredible strength, shine, and bounce. A joy to spin, this fiber creates a glossy yarn.
•POL-LOVE-100% Polwarth: 22-24 microns. The Polwarth breed was created by crossing Lincoln and Merino creating one amazing and adaptable sheep. Its fiber has a long staple length and creates a smooth, strong yarn that can even be used alone for a wonderful sock yarn. It's another fun, soft fiber that is easy to spin. Perfect for beginners or people just wanting to try out some different fibers.

•RUSTIC LUX-70% fine Merino, 10% Tibetan Yak, 10% Mulberry Silk: Talk about luxury! An absolutely delicious blend of Tibetan Yak/Mulberry Silk/and superfine Merino. Unbelievable softness, fluff, and a lovely gray undertone from the Tibetan Yak, with softness comparable to Cashmere. Treat yo' self!
•MAGIC CLOUDS: Magic Clouds are a big, fluffy soft, 2 oz. carded mixed-fiber surprise with a healthy dose of sparkle. Fibers can include: Merino, Bamboo, Tussah Silk, Blue-Faced Leicester, Targhee, yearling Mohair locks, Lincoln, Rambouillet, Angelina, Firestar...always a surprise. Depending on how fine you spin this you can get enough yardage for a small project with one 2 oz. Magic Cloud. Or spin up the yarn to add some interest to another project. Let your creativity drive your yarn-artistry!
•LUSTER LOCKS-100% Gotland: Beautiful, lustrous curl pattern, long staple, reminiscent of mohair with a lovely drape when spun. Great fiber to spin from locks. Sourced from Unspun Acres in Conrad, Montana; a small, ethical family fiber farm and close friends of mine.